SOMETHING NEW - New Materials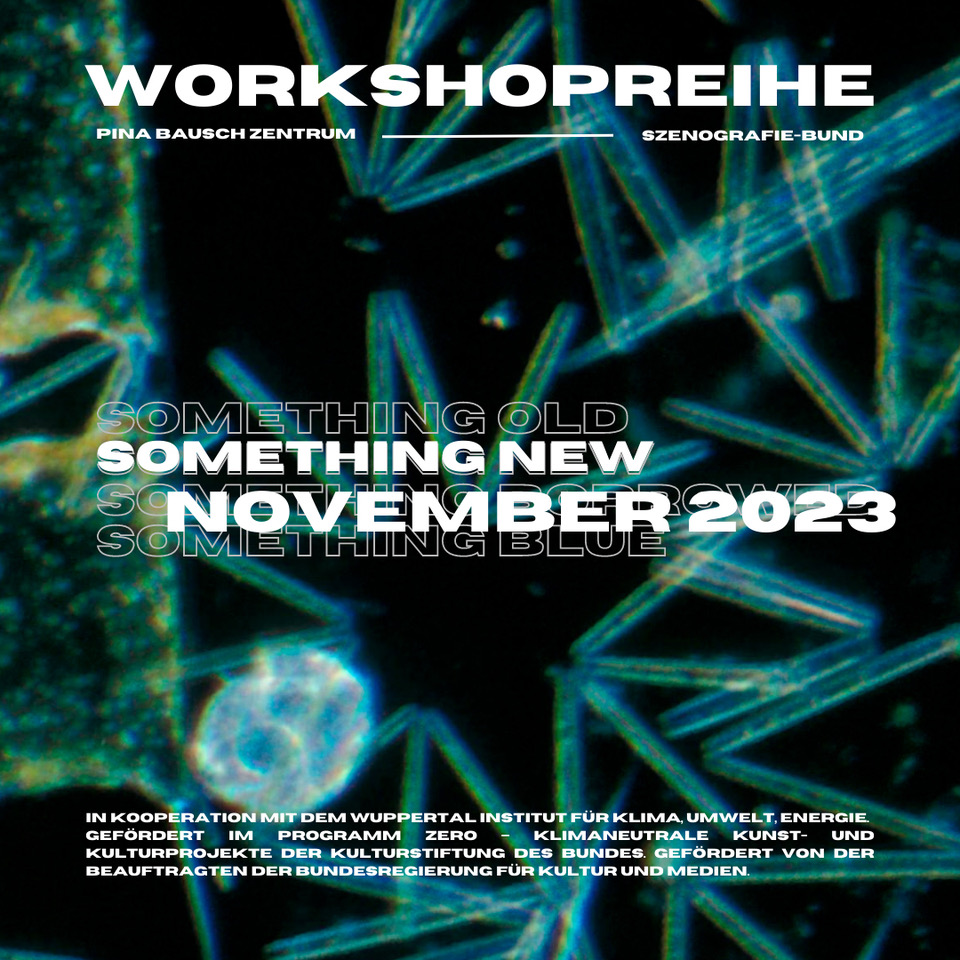 SOMETHING NEW - New Materials is coming! The second edition of residencies for sustainability in stage design will take place from 16 to 23 November 2023.
Where: Schauspielhaus and Pina Bausch Centre, Bundesallee 260, Wuppertal
The future Pina Bausch Centre and the Szenografie-Bund are collaborating with the Wuppertal Institute for Climate, Environment and Energy to offer four workshops in 2023 and 2024. The overarching theme is sustainability in stage and costume design – SOMETHING OLD, SOMETHING NEW, SOMETHING BORROWED, SOMETHING BLUE.
SOMETHING NEW – New Materials takes a collaborative approach and explores new biological materials that may be relevant for theatre. The event features conceptual workshops with a range of industry experts, as well as practical sessions in which participants will develop new models for artistic uses of biological materials.
The workshop is currently fully booked. If you are interested, please send us an email and we will put you on the waiting list. If you have any questions, please contact Teresa Monfared or Anna Wille at the Szenografie-Bund: residenz@szenografie-bund.de. At the Pina Bausch Centre, contact Bettina Milz or Anna Stratmann: anna.stratmann@pina-bausch.de.
The workshops are part of the project "A holistic approach to the Pina Bausch Centre", which is supported by the German Federal Cultural Foundation's fund Zero – Climate Neutral Art and Culture Projects. Co-funded by the Federal Government Commissioner for Culture and the Media. Further support comes from the Ministry of Culture and Science of the State of North Rhine-Westphalia and the Sparkasse Wuppertal, in collaboration with Tanztheater Wuppertal Pina Bausch and Pina Bausch Foundation.
Participants in SOMETHING NEW – New Materials will have the opportunity to learn from industry experts about new developments in biological materials, while also sharing their own knowledge and experiences. Together they will develop future scenarios for sustainable stage design. Practical workshops will introduce novel cellulose-based materials and plant-based dyes, and offer the chance to work on individual artistic approaches. Urs Dierker is the host and curator of SOMETHING NEW.
===
SOMETHING NEW - New Materials features experts including
Dr. Tanja Beer & Freddy Komp (Griffith University Queensland Australia)
Friederike Hoberg (TU Berlin)
Sarah Meyers (MeyersFügmann Berlin)
Irene Purasachit (Flower Matter, designer)
Dr. Emilija Veselova (researcher and designer)
Axel Wähling (NIG Natural Dyes)
Anja Gast (costume designer) & Barbara Zippel (Pflanzenfarben Manufaktur)
Workshop on natural materials: Anja Gast, Barbara Zippel and Urs Dierker
Curator and host: Urs Dierker
===
Input 1
Tanja Beer & Freddy Komp (tanjabeer.com)
Input 2
Irene Purasachit (irenepurasachit.com)
Input 3
Emilija Veselova (emilijaveselova.squarespace.com)
Input 4
Axel Waehling, NIG (www.nig-naturaldyes.com)
Friederike Hoberg (myco-colors.com)
Sarah Meyer (meyersfuegmann.com)
===
Urs Dierker Urs Dierker is a costume researcher, designer, and tailor. He started his career as a tailor apprentice at the Deutsche Staatsoper in Berlin. Dierker has worked on film and TV productions in Toronto, last on "Star Trek: Discovery." At Aalto University in Finland, he collaborated with material scientists to explore new biomaterials for costumes and founded Circular Costume Design, an innovation platform. Currently, he is a doctoral candidate at Northumbria University, UK, focusing on sustainable costumes.
(circularcostumedesign.com)
(researchportal.northumbria.ac.uk/en/persons/urs-dierker)
Anja Gast, was born in Landsberg am Lech. She is a master garment maker and costume designer who works primarily in and around Munich. She is also involved in the GTKos e.V. as the spokesperson for the garment makers' section. Since completing her degree at the University of Fine Arts in Dresden in 2021, she has been increasingly involved with the use of natural dyes and is committed to environmentally friendly and sustainable practices in costume production. She is particularly interested in bringing together textile arts and science.
Dr. Tanja Beer is the author of the book Ecoscenography: An Introduction to Ecological Design for Performance. She is a senior lecturer in design at the Queensland College of Art, Griffith University, Australia. Her groundbreaking concept of Ecoscenography has been presented at numerous conferences and platforms all over the world.
Freddy Komp is a designer who works across disciplines, with a particular focus on new media and automation. He has worked in the fields of theatre, festivals, events and exhibitions in Australia. In 2019, he was the technical director of the exhibition "Living Rocks: A Fragment of the Universe", responsible for bringing it to the 58th Venice Biennale and to the ZKM Karlsruhe in 2022. In 2023, he provided technical support for the video installation "unsettling Queenstown" at the Australian Pavilion at the 18th Venice Architecture Biennale.
Irene Purasachit is a multi-award-winning designer educated at Aalto University in Finland. She won, among others awards, the New European Bauhaus Prize 2022 for her work on Flower Matter. As product designer, Irene is focused on finding the intersection of design and sustainability, with an emphasis on existing value chains, agricultural and industrial waste streams. At SOMETHING NEW Irene will talk about her work on recycling waste from cut-flower industry to create non-woven flexible biomaterials.
Dr. Emilija Veselova is a researcher, designer, educator in the emerging area of more-than-human, multispecies and planet-centric design. Her research focuses on "designing with nature for sustainability", building on integrative, transdisciplinary links between design research, sustainability science, and environmental ethics. Her Input at SOMETHING NEW concerns her work on Designing with Nature - Thinking, Doing and Embodying, investigating how natural entities can be included in collaborative and participatory design and decision-making processes.
Axel Wähling serves as the Managing Director of NIG GmbH, an engineering and research enterprise located in Magdeburg, Germany. Previously, Wähling led the Research and Development department at NIG. The company specializes in the processing of fruits, vegetables, and other plant-based raw materials. NIG established itself as one of Europe's leading suppliers of industrial-grade natural colorabnts. The company currently provides renewable and biodegradable natural dyes that are well-suited for theatrical design, aligning with the principles of sustainability.
NIG (nig-magdeburg.de)
Friederike Hoberg is a biochemist. She dedicated her master studies mainly to the research of fungi both on a molecular level as well as regarding the applicability of fungal-based products as sustainable resources. Together with textile designer Birke Weber, she developed the idea for MycoColors - Colors from Fungi in 2022, which she is currently pursuing as part of her PhD at the Department of Applied and Molecular Microbiology at TU Berlin. he is additionally working on concepts in the SciArt collective MY-CO-X to communicate the potential of fungi to society through art. (myco-colors.com)
Sarah Meyer: Meyers & Fügmann is a studio for experimental textile and product design based in Berlin. Their work combines craft and industrial production through colour, technique and material. The studio advocates slow consumption and believes that the objects of our daily lives should take into account the origins of materials, the cultural value of production processes and their environmental impact. (myco-colors.com)
Barbara Zippel (pflanzenfarben-manufaktur.de)